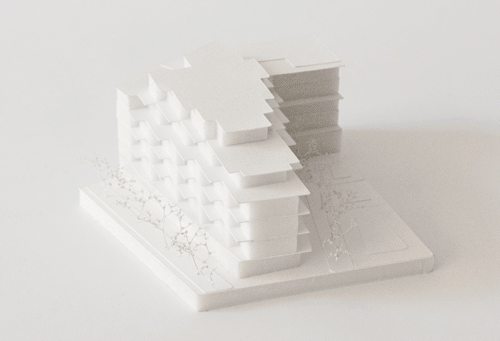 The project called OPEN UP! implements the concept of a new Viennese apartment building. The new Vienna Zinshaus is a flexible, hybrid, de-specialized building. Within the skeleton construction, the premises can be changed with the needs and demands of today's and future residents or users and offer a high degree of flexibility and sustainable use.
The 'Quartiershaus' in the Viennese Sonnwendviertel will be an urban catalyst with peculiarity, character and atmosphere right from the start. The building is used around the clock between open space, living space, business and work spaces and is integrated directly into the environment. All the units look  to the green Helmut Zilk Park, at the same time it is oriented glamourous to the Bloch-Bauer promenade, as an attraction for strollers.
The urban base zone can be divided and developed flexibly. High ceilings and technical infrastructure create ideal conditions for a wide variety of start-ups, small shops, restaurants of freelancers and gastronomy. On the upper floors, the 1 to 4-room flats and/or apartment clusters can be adapted to the individual wishes of the residents and, if necessary, converted into offices. The tenants are provided with communal facilities and retreats: a shared roof terrace as a "terrace commune", a bicycle repair, a loaner and a loggia kitchen.